Project in Uganda and Kenya
Peste des Petits Ruminants Vaccine Associate Award
Timeline: February 2017 - February 2022
Funding: USAID
---
Principal Investigator (PI) and Lead Institution
Adegbola Adesogan, University of Florida
Co-PI and Collaborator Institutions
Saskia Hendrickx, Project Manager
Jeff Mariner, Tufts University (Cummings School of Veterinary Medicine)
Frank Mwiine, Makerere University (College of Veterinary Medicine, Animal Resources and Biosecurity [COVAB])
Wieteke Daniels, Mercy Corps - Uganda
Harry Oyas, Directorate for Veterinary Services - Kenya
Duncan Ithinji, Kenya Agricultural and Livestock Research Organization (KALRO)
Target country institutions and authorities
Journal Articles
Acosta, D., Hendrickx, S., and McKune, S. September 2019. The livestock vaccine supply chain: Why it matters and how it can help eradicate peste des petits ruminants, based on findings in Karamoja, Uganda. Vaccine 37 (2019) 6285–6290. https://doi.org/10.1016/j.vaccine.2019.09.011
Coffin-Schmitt, J.L., Moore, E.V., McKune, S.L., Mo, R., Nkamwesiga, J., Isingoma, E., Nantima, N., Adiba, R., Mwiine, F.N., Nsamba, P., Hendrickx, S., and Mariner, J.C. 2021. Measurement and Sampling Error in Mixed-Methods Research for the Control of Peste des Petits Ruminants in the Karamoja Subregion of Northeastern Uganda: A Cautionary Tale. Preventive Veterinary Medicine. https://doi.org/10.1016/j.prevetmed.2021.105464
Nkamwesiga, J et al. 2019. Identification of Peste des Petits Ruminants Transmission Hotspots in the Karamoja Subregion of Uganda for Targeting of Eradication Interventions. Frontiers in Veterinary Science, section Veterinary Epidemiology and Economics.
Other Results
Project Plan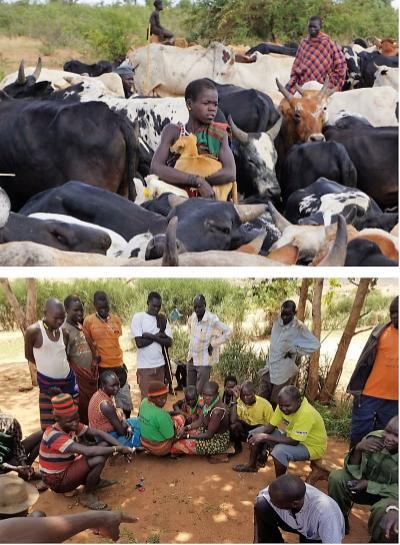 Peste des petits ruminants (PPR) is a highly infectious viral disease of small ruminants, primarily domestic sheep and goats. The disease affects around 1.7 billion sheep and goats in 76 countries. It causes a staggering USD 1.45-2.10 billion in losses annually to 330 million of the world's poorest people, often women, many of whom are food insecure and malnourished. Hence, eradicating PPR will reduce the morbidity and mortality caused by the disease and thus help improve food security, nutrition, and the incomes of millions of poor farmers via animal-source food consumption. Eradicating PPR has become a critical priority of the international community as emphasized at the 2015 International Conference on Control and Eradication of PPR. Given the relatedness of the PPR and Rinderpest viruses and the fact that they have occurred in similar environments, strategies for PPR control and eradication of PPR should be informed by the lessons learned from the 2011 Rinderpest eradication. Results are expected to support and inform PPR control and eradication efforts worldwide.
The purpose of this project is to assess innovative approaches to PPR control using thermostable PPR vaccine and to build capacity to scale the vaccine across a broad region where the disease is endemic. The project will use a combination of tools and approaches which proved successful in the RP eradication, including the thermostable vaccine, community animal health worker (CAHW) based vaccination systems, participatory epidemiology (PE) to gather intelligence for targeting vaccination, and use of modeling to target areas with the highest disease transmission.
Photo credit: S. Hendrickx
Project Information

Recorded Webinar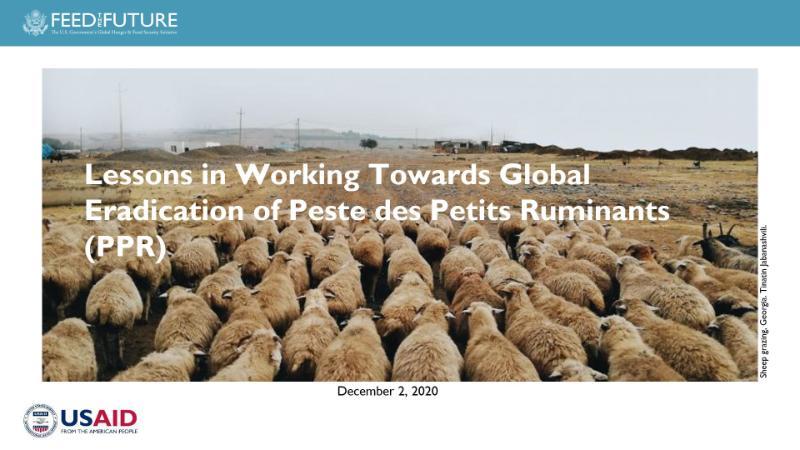 Background for Webinar

For millions of smallholder farmers, small ruminants – sheep and goats – provide a vital source of food, income, and security. Threatening this, however, is a devastating and highly contagious livestock disease known as Peste des Petits Ruminants (PPR), or sheep and goat plague. PPR causes USD 1.5 to 2 billion in losses each year in regions that are home to over 80 percent of the world's sheep and goats and to more than 330 million of the world's poorest people, many of whom depend on them for their livelihoods. As one of the world's most damaging livestock diseases, PPR spreads rapidly through herds, killing anywhere from 30 to 70 percent of those infected and placing the livelihoods of herders and their households at significant risk.
To combat the devastating effects of PPR, the Food and Agriculture Organization of the United Nations (FAO) and World Organisation for Animal Health (OIE) launched the Global Strategy for the Control and Eradication of PPR in 2015. To contribute to the global effort to eradicate PPR, USAID partnered with three programs working to develop innovations to improve control of PPR. This webinar will provide background information, updates, and next steps for each of the programs.
Feed the Future Partnering for Innovation (Nepal) partnered with Hester Biosciences Nepal Private Limited (Hester) to commercialize a thermostable version of the PPR vaccine in 2019. In October 2020, Hester completed the technology transfer process and received final regulatory approval for the production and distribution of this vaccine. The presentation will discuss the supply chain and distribution strategies utilized by Hester to sell 400,000 doses of the TPPR vaccine in Nepal by June 2021. It will also discuss the important role the private sector plays in commercializing agricultural research products.
The Feed the Future Mali Livestock Technology Scaling Program, led by the International Livestock Research Institute (ILRI), has been supporting the Central Veterinary Laboratory of Mali in the production of thermotolerant PPR vaccines since 2016. The presentation will discuss thermostable vaccine development including partnering with a National laboratory. It will also highlight the advantages of utilizing an integrated vaccine delivery approach though Innovation Platforms.
The Feed the Future Innovation Lab for Livestock Systems (Kenya and Uganda) in partnership with Tufts University, is assessing innovative approaches to PPR control and building capacity to scale the vaccine. The project uses a combination of tools and approaches which proved successful in the rinderpest eradication. The presentation will describe an assessment of the patterns of PPR virus circulation in the Karamoja subregion of Uganda conducted to identify the communities that maintain the virus and inform the development of a targeted vaccination strategy. The participatory epidemiology assessment included risk mapping with livestock owners, community animal health workers, and veterinarians and indicated two critical foci of virus transmission on the Uganda-Kenya border.
---
Feed the Future Innovation Lab for Livestock Systems is part of Feed the Future
Subscribe to our Newsletter / Contact us: livestock-lab@ufl.edu
This work was funded in whole or part by the United States Agency for International Development (USAID) Bureau for Food Security under Agreement # AID-OAA-L-15-00003 as part of Feed the Future Innovation Lab for Livestock Systems. Additional funding was received from Bill & Melinda Gates Foundation. Any opinions, findings, conclusions, or recommendations expressed here are those of the authors alone.