Innovations
Innovations help farmers and researchers to apply best practices based on current research. Our innovations for livestock systems are based on research conducted in our target countries. Although developed in a particular context, these innovations hold promise for broad application globally. Please contact us if you have questions about a particular innovation.
Below is a Table that lists many innovations. Click on names with a link to obtain a 1-page summary in PDF format.
These innovations were developed based on research that we funded in each country. A one-page summary of each innovation is listed here. You may also be interested in our Innovation Platforms.
Innovations for Feed & Forage

Innovations from Burkina Faso & Niger

Innovations from Ethiopia

Innovations from Rwanda

Innovations from Cambodia

Innovations from Nepal

---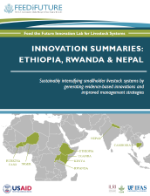 Booklet. April 2019. Innovation Summaries: Ethiopia, Rwanda & Nepal