Project in Nepal
Designing and evaluating innovations for development of smallholder female livestock cooperatives in Nepal
Timeframe: October 2016 - June 2021
Funding: USAID
---
Principal Investigator (PI and Lead Institution)
Conner Mullally, University of Florida
Co-PI and Collaborator Institutions
Results
Miller, S. and C. Mullally. 2022. Investigating the inclusive-performance tradeoff in agricultural cooperatives: evidence from Nepal. World Development 159(1): 106017. https://doi.org/10.1016/j.worlddev.2022.106017

Working Paper. July 2020. Investigating the Inclusive-Performance Tradeoff in Agricultural Cooperatives: Evidence from Nepal (author's blog post with link to paper)

Innovation Summary. June 2020. Distance Learning Platform for Community Animal Health Workers
Innovation Summary. April 2019.
Gorkhali, N., Janzen. S., Magnan, N., Mullally, C., Sharma, S., Shrestha, B. and Thapa, B. 2019. Poster. Technical innovations for female entrepreneurs in the livestock value chain in rural Nepal. Presented at the 9th annual Global Agenda for Sustainable Livestock (GASL) Multi Stakeholder Partnership, Manhattan, KS, USA.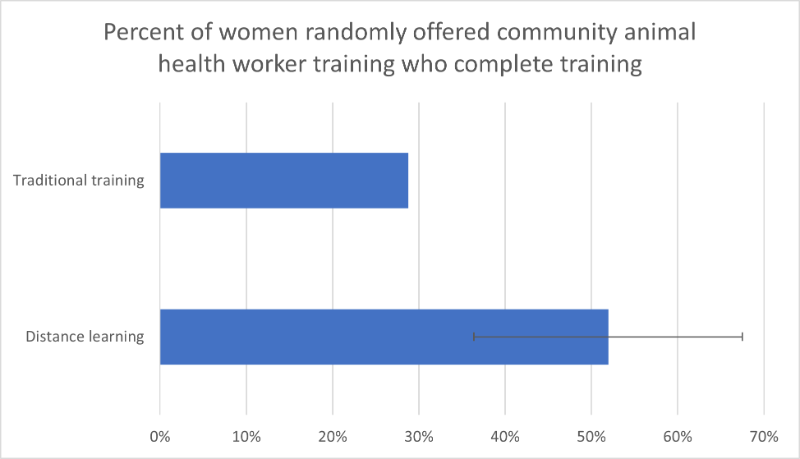 Figure: Distance learning is proving to be much more popular than traditional methods for these women in Nepal. Learn more about this project's findings in this 2020 update: MULLALLY VGM.
---
Project Plan
In Nepal, goats are an essential source of income and animal-source foods and nearly every rural Nepali household owns at least a small quantity of goats. Recently, rising urban incomes have translated into higher demand for goat meat but a poorly functioning value chain and limited access to animal feed have left poor smallholders, most of whom are women, unable to benefit. Specific constraints include lack of year-round access to nutritious feed, scarce extension and veterinary services, and poorly functioning output markets, including weak bargaining power and a lack of communication infrastructure. The objectives of the project are to: (1) Increase feed and forage production through preservation, improved varieties, and access to other forage resources for improved livestock productivity; (2) Increase access to markets of meat goats for smallholders in order to improve household income, nutrition, and food security; and (3) Increase the percentage of female Community Animal Health Workers (CAHWs) for improved livestock productivity and reduction of animal disease. To address these objectives, the project designs, implements, and rigorously evaluates three interventions to improve goat value chain functionality in rural Nepal. These include:
Evaluation of several drought-resistant forage varieties, disseminated through CAHWs trained by Heifer International Nepal and promoted within their smallholder cooperatives. The Nepal Agricultural Research Council (NARC) will direct this effort, working in four different research locations and collaborating with Heifer International Nepal and producer cooperatives to introduce varieties and the package of services offered to cooperatives, while training members on the use of silage to reduce dry season feed shortage.
Assessment of distance learning platform that will make it easier for women to become CAHWs: The project will develop and pilot this platform which will consist of a) a short workshop at a central location for an introduction to and receipt of training materials, including a tablet computer pre-loaded with the government-approved curriculum for training animal health workers and sufficiently ruggedized for the conditions of rural Nepal, b) one or more short in-person follow-up training sessions, c) apprenticeship and/or mentoring from a previously trained CAHW, d) regular tablet-based tests for assessment of learning, and e) final workshop and graduation ceremony. To strengthen the quality of mentorship, experienced CAHWs will be provided mentorship training.
Assessment of an SMS-based information sharing platform that will improve cooperative efficiency and sustainability: Through the SMS platform, cooperative leaders will communicate with a single member of each SHG (organized by Heifer International Nepal and consisting of 20-30 women) who will provide their cooperatives with regular updates on the goat inventory of their members; this information will be used by cooperatives to negotiate with buyers. The SMS platform will also be used to communicate information on disease outbreaks, availability of CAHWs, and other services.
The communication interventions will be evaluated using a randomized control trial spanning 109 Village Development Committees in 27 districts, including eight in the Feed the Future Zones of Influence (ZOIs).
More Information

October 2020 research update MULLALLY VGM (Virtual General Meeting)
---
Feed the Future Innovation Lab for Livestock Systems is part of Feed the Future
Subscribe to our Newsletter / Contact us: livestock-lab@ufl.edu
This work was funded in whole or part by the United States Agency for International Development (USAID) Bureau for Resilience and Food Security under Agreement # AID-OAA-L-15-00003 as part of Feed the Future Innovation Lab for Livestock Systems. Additional funding was received from Bill & Melinda Gates Foundation OPP#1175487. Any opinions, findings, conclusions, or recommendations expressed here are those of the authors alone.